Service portfolio
PPS caters for numerous segments of the poultry industry, including:
Chicken producers striving for better performance, having some management or disease issues or simply wanting greater profitability.
Feed producers who want to offer an extra service for their partner customers, by improving the technical skills of their staff.
Universities who provide excellent theoretical teaching for their students, but want to top up their training with practical experience from the field.
Laboratories seeking to learn more about the normal treatment methods and daily practical challenges.
Vet product distributors who aim to be better than their competitors by providing an additional service for their customers.
Processing plants requiring a veterinary update in their customer meetings.
The main services are:
Complete farm profiling:
Quite often, management issues on a farm cannot be easily recognized by the team working within the poultry operation. It takes a fresh pair of eyes to spot the real problems. Whilst the management might be aware of one or two major difficulties, smaller but nevertheless significant issues can escape attention.
I developed a checklist of all important concerns within poultry farm management, which enables a thorough overview of the farm's performance. The farm profile then provides a list of the critical items that have been identified, plus practical advice for improvements in the future. As a starting reference point, it is advisable to begin your relationship with PPS with a full farm profiling.
Audits:
Even the best poultry operations can improve profitability when its operations are reviewed from time to time. For example, vaccination programs might be very necessary at certain times, but they then need to be adapted as the disease situation changes. It is therefore useful to have a regular audit by me so the situation can be analysed and the necessary changes suggested. In particular, large poultry operations can save a lot of expense when an unnecessary vaccination is stopped, because the disease problem is solved. Laboratory tests organized by me can provide supporting evidence that alterations in the prevention programs are needed. It is generally best to carry out an audit after 2 or 3 broiler flocks, or about twice a year.
Emergency visits: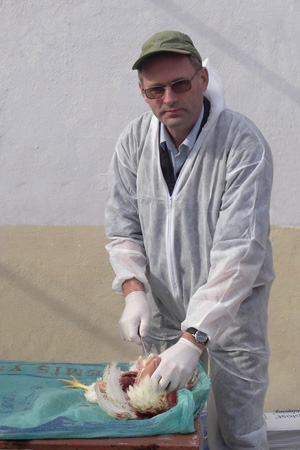 When a disease suddenly appears on the farm, or the performance unexpectedly drops, it is essential to have a rapid veterinary inspection to focus on the issue and eliminate the financial consequences as soon as possible. Whilst the local veterinary doctor will probably do his best to help, having international experiences I know the actual disease status over larger areas. And then to organise urgent laboratory tests, and deliver the results in a short time frame. Depending on my busy schedule and my actual location, it is possible to request a visit on short notice. In this era of digital cameras and Internet access, it may be possible to gain preliminary information and provide provisional advice, but this cannot replace an actual visit to assess the circumstances of the emergency.
Training:
I can provide specialist training on all aspects of poultry science and industry. For example, large poultry operations may wish to increase their teams' technical knowledge, or feed mills and breeder companies might need training for their sales-force in order to be more effective in their daily work. Universities and poultry associations might require some special training with lots of practical examples.
My standard training program on the following areas can be delivered at short notice:
– Management
– Nutrition
– Diseases
– Health Monitoring
I can also provide tailor-made training. In this case a certain preparation period will be needed, as I will endeavour to make use of all relevant up-to-date literature as background for the training material.
Presentations on poultry conferences or symposia
I am determined to carry out my own research activities, mainly focused on practical issues which are related to present poultry systems. New problems often emerge which need surveys or mass tests. I am devoted to helping the poultry industry with this kind of activity, so the results can be shared with poultry people at conferences or symposia.